Red Diesel (Gas Oil) Supplier
24/7 Delivery Of Red Diesel Nationwide
Here at Beesley Fuels, we have almost 50 years' experience supplying red diesel to customers across the UK, 365 days a year.
We understand that businesses do not all run to a strict 9-5 schedule, so neither do we. In a world where business never stops, it's understandable that your site cannot always wait until office hours for a refuel.
Our 24-hour delivery service means  we can tailor our service to help you keep to your own schedule. It has also helped us to become one of the largest and most relied upon, red diesel suppliers in the UK.
If you would like to discuss your red diesel requirements, call 0121 552 7766  to speak with one of our friendly advisers today. 
Local red diesel supplier you can count on
Beesley Fuels has been supplying businesses with a regular and reliable supply of fuels and lubricants for nearly 50 years. From humble beginnings distributing fuels and lubricants in the West Midlands area, due to our excellent reputation, we have fast become a leading red diesel across the UK.
If you are ready to find out more and discuss your requirements, our friendly team of advisers are available to take your call on 0121 552 7766.
What is red diesel and who can use it?
Red diesel is also commonly known as gas oil, heating oil or tractor diesel. Only a very small fraction of UK industry is legally allowed to use red diesel in their vehicles and there are very strict laws in place to prohibit mainstream use.
If you are unsure about whether your business is permitted to use red diesel, we would suggest you refer to the regulations set out by HMRC surrounding red diesel use.
The name "red diesel" comes from the fuel dye that is added to red diesel in order to distinguish it from regular diesel. If you were to add red diesel to the fuel tank of your prohibited road vehicle, even long after use, the telltale signs of the red dye staining your fuel tank would alert the authorities to its past use if they were to check your fuel tank.
Just a small top-up or a bulk delivery?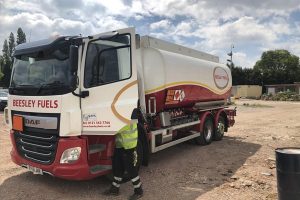 Whether you need to schedule a one-time delivery or you're looking for a more frequent and long term delivery partner, we have both the capacity and the infrastructure to ensure your business is running smoothly.
Before you buy 20 litres or 100 litres of red diesel, it's worth considering a 205-litre barrel which can save you money by purchasing larger quantities. Even better, if you have the available storage facilities on-site, we recommend buying in bulk as a way to save money long-term.
For more information or to order a red diesel delivery, please contact our team on 0121 552 7766.
Red diesel price per litre
The price of red diesel changes all the time, so it's always best to check regularly with a reliable supplier. We provide daily prices and factor in your postcode to enable us to plan our routes strategically. Purchasing larger quantities of red diesel in one delivery will also enable you to experience lower red diesel prices.
Call our team today on 0121 552 7766 for a life gas oil price. 
Additional red diesel services
Carbon offset red diesel
Beesley Fuels is committed to a greener future (and know that many of our customers are too), which is why we offer a carbon offset red diesel (C.O.R.D). We invite you to do your bit by spending just a small amount more and contributing to carbon-reducing initiatives around the world.
Fuel management services
At no extra cost, we will manage your account to ensure you never run out of fuel and pay only the best possible prices. Completely remove any hassle from managing your fuel – we monitor your levels and deliver when you need it, based on your usage.
To order fuel from a red diesel supplier you can count on, call 0121 552 7766  today.